YLF Children in Care Council (CiCC) v Social Care Professionals Medway Council Annual Football Event
The early evening sun was shining brightly on Strood Academy as preparations were finalised for the annual football event which has become one of the highlights of the calendar for young people and professionals.   Crowds gathered in eager anticipation of what was to come – would Medway Council staff retain the trophy for a 4th year or would the team of young people finally win back their trophy….only time would tell!
This year, the CiCC were looking prepared and even more professional than usual, thanks to Kent's Police & Crime Commissioner, Matthew Scott, who donated brand new kit to the team prior to the match. The first of the matches kicked off as the Junior CiCC  took to the field for a 7 a side game.
Respect handshakes took place and the teams were off.  The children took the early chances to score not one, not two but three fantastic goals – with all players contributing to the teams first half success.
Quick refreshments and a half time rest (more for the professionals than the children!) and the children carried  on their strong form.  A well taken penalty and two more goals, with some solid defending ensuring a clean sheet – and the final whistle came – a 6:0 win for the Junior CiCC.
One game and one win – one more game to go.
With the 30 strong CiCC squad now warmed up and looking so good in the new kit, Medway Council staff were still reeling from their heavy defeat and the pressure was on them.  Against all odds, the social care professionals took an early lead – but I didn't last long as the CiCC bounced back with an equaliser…and then scored another!  Some heroic goalkeeping kept the scores that way and with half time looming we looked certain to be in the lead at half time – but NO – a breakaway goal brought the professionals level.  With seconds remaining the CiCC scored a third  - half time 3-2 to the CiCC!!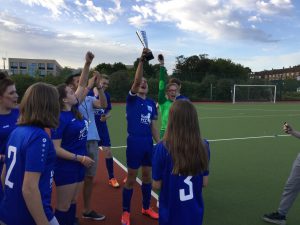 A frantic 2nd half followed, with many changes and substitutions clearly affecting the referee who had no idea how many players were on the pitch – but the CiCC stayed focused and scored another 3 goals to bring their tally level with their younger peers – FINAL SCORE 6-3!!  The trophy was coming home and the double had been completed.
Director of Adults & Children's Services, Ian Sutherland and Lead Member, Cllr Andrew Mackness, paid tribute to the teams and presented each player with their well-earned trophies – and then the time came to lift the trophy…..with cheers and loud applause the trophy was the CiCC's for another year.
As the evening sun set for another year…..time to reflect on an event played in such good spirit, light hearted banter and positive encouragement.  A HUGE thanks to Strood Academy, all those who played the game in such good spirit, to all those who supported the teams, our referee and to PCC Matthew Scott for donating a new kit……THANK YOU #wewonourtrophyback