We are all certainly in the Christmas spirit here at YLF and are enjoying lots of seasonal festivities...
Flight of Dreams
YLF young people embarked on an amazing experience that only a child could dream of... to board a plane from Stansted airport in search of Santa! With thanks to the Thomas Cook Children's Charity, it was a unforgettable day of festive cheer, elves, Santa and of course a gift for everyone. Read more next week!
The Giving Tree, Albany Funerals and The Spitfire
YLF is super grateful to have received gifts from Bluewater's Giving Tree this year and we have already started wrapping and delivering to our children who may not have otherwise been given such wonderful and generous gifts. In addition, today we received more donated Christmas gifts from Albany Funerals, Maidstone, and on Sunday even more from The Spitfire pub who are holding a 'Secret Santa' gift campaign for our children!
Christmas Jumper Day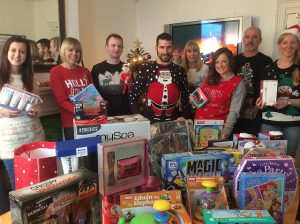 And how best to feel full of festive cheer than a traditional Christmas Jumper Day at YLF! Today the YLF staff wore their favourite Christmas jumpers - check out our photos!
Stay updated on our Twitter and Facebook pages for more photos!