YLF Youngsters Have Talent!
On Thursday 30th March 2017, The Young Lives Foundation held a Talent Show for their Young People in the CiCC. The night was full of excitement, enthusiasm, laughter and memories were made for the Young People and staff that took part!
The CEO for The Young Lives Foundation, Stephen Gray, said "It was so nice to be back at the group
and see the amazing talent all around!!"
With any Talent Show you have got to have a panel of judges! As the night didn't have any winners, our judges provided motivation and positivity to all of the acts that were involved and even impersonated some other famous judges!
One judge, The CiCC Chairman Ed, otherwise known as Louis Walsh, provided the acts with a sensation of relief at the end of their performances with the classic "you look like a popstar, you sound like a popstar, you are a popstar!" an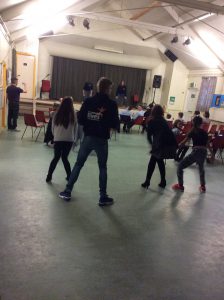 d even jumped up on stage to comfort one act during an emotional performance of "You Raise Me Up".
YLF's Participation Team, Apprentice Karleigh and Coordinator
Sarah even jumped up to make the audience laugh with a performance of the "cha cha slide" and got the audience on their feet doing the dance with them!