Medway Challengers youngsters enjoy some R & R at the beach!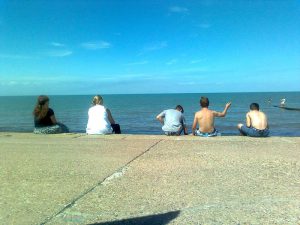 The sun was shining for the Medway Challengers annual beach trip and as always the young people decided on the destination; this year we settled on Minnis Bay in Thanet.
We arrived armed with our B-B-Qs, burgers and cricket set and off we went to seek out the perfect spot.  The tide was in and our young people didn't waste a second! Bathers on and in for dip…
After a few games of cricket, several applications of sun cream and some exceptionally tasty burgers, it was time to head home but not before the traditional stone skimming contest...
Needless to say the boys came out as clear winners with Alfie stealing the show!
"I love the beach trip, it's nice to just chill out and relax with each other." Sophia
"I love that we get to choose where we go, it's cool." Callum
"The Nations Thrill Capital"… Medway Challengers youngsters hit Thorpe Park!
Probably the most popular activity of the year and this year's trip did not disappoint! As always we set off nice and early, the M25 did nothing to dampen the spirits of the young people and albeit later than scheduled we had arrived!
...And they were off! One group headed for the brand new ride "Swarm" one for "Tidal Wave" and the others for "the one that goes upside down 10 times!"
At the end of the day we took a few minutes to listen to each other's stories and highlights of the day before we set off for home, once again the M25 did it's best to hold us up but our Challengers' DJs who were riding up front took the sting out of its tail!
"My favourite day of the year … Simple!"
"I have made loads of new friends today, I am definitely coming out with Challengers again."