October Half Term | Lazer Rush
On Tuesday 28th October, eight young people aged 8-15 headed to laser rush in Whitstable.
Once the young people arrived they had the opportunity to think of a code name.This was so that in the future the group wouldn't be a number but use their code name to get their score. One young person's code name was 'Crazy Unicorn'!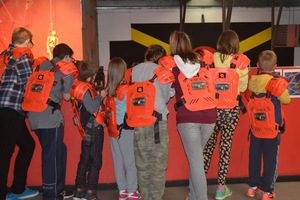 The first game started and the young people were off. The challenge was to get the highest score in the group. They all took their challenge seriously and managed to all do so well at the game.
After a refreshing 'Slushie' drink break, the young people were ready for their next game. This time. a team game against another youth group that was there. The young people all geared up with their red laser packs on and headed off for the challenge of winning the most points against the green team. After an exciting twenty minutes of lazer warfare they came back together to find out the scores. Sadly the green team won but it didn't dampen the spirits of our team, they did try their best after all!
Lunch time arrived. There were conversations about how the first two laser games had gone and plans on how to do well in the next game. Once everyone had finished their lunch the group got ready for their third and final game. Everyone was buzzing after and had a great time - they even got to take home their personal score sheets! What a day, we had so much fun and sure to be coming back here again sometime!
"I loved the lazer shooting, can we come back again?!" Chloe (8)
"The best bit about today was being able to play as part of a team - I've had such a good time!" Kim (13)