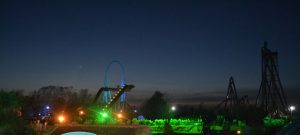 YLF's daring group of 30 young people set off on Halloween for the thrills and spills of Thorpe Park's Fright Night!
On Friday 31st October, thanks to the unusually warm day, the group excitedly arrived at the park and the water rides were the first stop of the day!
As 3pm neared the young people began to psych themselves up for the main event of the day – horror mazes!
Cabin in the Woods, Blair Witch Project, Saw….. they conquered them all!!!
A fantastic day was had by all.
"I loved the fact we got to experience the rides at night, it made them soooo much more exciting!" Kirsty
"This is my favourite activity of the year - today has been epic!" Ronnie