YLF is delighted to welcome Paddy, the apprentice! Paddy joined YLF this week, here is what he has to say...
"Hello everyone my name is Paddy, I am the Children Care Council (CiCC) Apprentice. I started my apprenticeship on Tuesday 4th November which does mean, yes, I've only been here a few days!
In my job role I aim to be as successful as I can. I hope that I can bring lots more ideas into the CiCC and YLF.
I also hope that I can expand the number of people that come to the CiCC meetings and to the Challengers group. These things are my first personal goals because as being in care myself I think it is very important that every child in care gets the chance to meet new people or people like themselves where there is no stigma.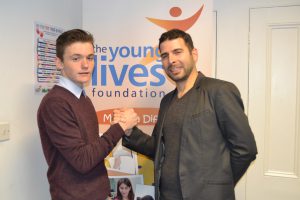 Another part of my role is to keep in communication with all social workers, professionals and young people. Soon I will have my own blog/twitter where I will be telling what I have been up to and what some of my targets are. I hope that lots of you will have a look at my blog and the Big Difference pages. When all of this has been set up I will send you all the links so that you can look at it whenever you want to.
Being a child in care and now an apprentice at YLF I have a duty to make sure that every young person voice is heard."
YLF's CEO, Stephen Gray says, "YLF are really pleased to have Paddy on board. He will be a great asset to the team. We feel it is important not only to give the young people we support a chance to learn with us through the apprenticeship programme, but also for YLF to have young people informing our practice."