"It's my birthday! I'm so happy to go to Lazer Rush as it's something really special for my birthday!" said Jack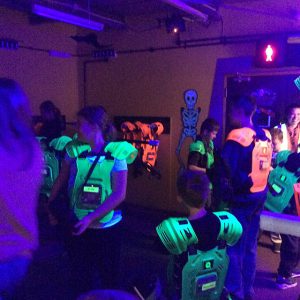 YLF was delighted to take a group of young people to Lazer Rush in Whitstable - especially as there was a birthday to celebrate!
Armed with their kit and lazer guns at the ready, the group engaged in a number of different and exciting games, working as a part of a team and also displaying their individual skills. After the first game, the young people realised that staff member Matthew was way too competitive so they all decided get him back by shooting him in the next game (even those on his team!)
A well-earned rest and a quick bite to eat was had before gearing up and heading back in for the final game. It was great to see the older group members watching out for the younger ones in the darkness.
"I was really pleased to come along even though I knew that I was the oldest and biggest young person so I had to watch out for the younger ones, but it's been so much fun. I just love being able to run around and shoot people in the dark." Jamie
"This is my first trip with YLF and I much prefer Lazer Rush than things like football. I've had such a brilliant time. Can we do this again at Christmas?" Milo