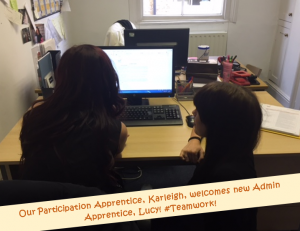 YLF welcome new YLF team member, Lucy, who joins us as our Administration Apprentice.
Lucy will work towards an NVQ Level 2 in Business Administration over the next year and support the YLF team at the office.
She says, "I am very happy to have been given this opportunity, and as part of my role here at YLF, I will be assisting the staff with their day to day jobs that includes filing and maintaining databases and I will also be helping with marketing and fundraising.
I have enjoyed my first week here and continue to look forward to my time at YLF, meeting everyone and supporting the team."
We are super excited for Lucy's input at the YLF office and very pleased to be able to support another young person to achieve not only a qualification but also many new skills to assist her future.
We would like to thank Tunstall Jubilee Foundation for supporting us to fund this scheme and look forward to what this year may bring.