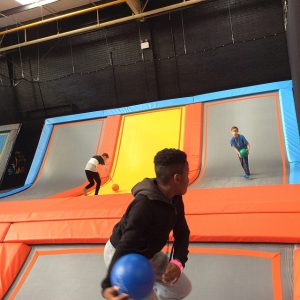 Our group of youngsters were certainly jumping for joy as they bounced into Soar Trampoline Park!
Dodge ball whilst jumping around on a trampoline - easy! Gladiator wrestling - peasy! Ladder climbing - lemon squeezy! .... Turns out the lighter frames of the girls meant they were much better than the boys at these games - well done to the girls for beating the boys!
There was also foam pit jumping and so much more - the group had a fantastic time! They even enjoyed racing the YLF staff members up and down the trampolines, giving them super confidence knowing they were quicker than the adults!
Once everyone was all bounced out, they headed to the Party Room to enjoy lunch and have conversations about their achievements ... we also had a fun game of Chinese Whispers before heading home - a game not played in a long time!
"I loved climbing the ladder! I nearly won and got to ring the bell, but then it flipped and I fell off - I beat the boys though!" Megan
"I loved playing dodge ball. It was so funny, especially on a trampoline!" Simon
"Soar was just awesome!" Sophie