Summer '15 | Wicked Day Out!
12 young people jumped at the chance to catch a train withYLF to London Victoria for a very 'Wicked' day out!!
The sun was shining and everyone was excited about the theatre trip to see 'Wicked'.
Most were very chatty throughout the hour long train journey but to pass some of the time, a couple of young people assisted the adults in attempting a crossword puzzle....although Google was required to answer most clues!
We finally arrived at Victoria Station and crossed the road to join the long, non-moving queue outside the Apollo Victoria Theatre. There was a slight worry that we would be seated late as time was running out, but the queue suddenly moved very fast and we were all seated with minutes to spare!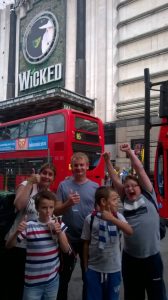 Drum roll!!!....The show started! Everyone applauded at the end of each song, laughed at all the funny moments and there were one or two tears at the sad times too. One of the young people was so impressed with the show that they just had to buy a programme during the interval to find out more about the production!
Act 2 began and we all were excited to see how the story would pan out. The show had a great twist at the end and everyone joined in to give the performers the applause they deserved. The biggest cheer of course going to the 'wicked' witch!
"I loved that show so much - I could sit and watch it over and over again, forever!" said Leo
We headed back to the station which was even busier than before due to the chaos of rush hour, but we all managed to find seats on the train for the way home and some managed to catch a snooze. It was an adventurous outing and everyone had a fantastic time.