It was the last of our early morning wake-ups at the wonderful Kent Mountain Centre in Wales.
We got up and had our last breakfast together. This was a lovely time to share memories made but also a sad moment too to be leaving. After breakfast we had to collect all our belongings, pack and load the minibus all ready for a 9am start to our journey home! Once loaded it was time to say goodbye to Wales, to the centre staff and put an end to our latest adventure.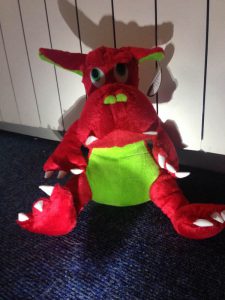 We were extremely lucky to find not one or two dragons but a whole family of them and they had been living with us all weekend too - a few of us even purchased one each as a reminder of our time in Wales. We had such a great time away, filled with exciting activities of kayaking, boating, hiking, gorge walking and playing a wide range of other games.
We are all extremely tired and ready to go home. We slept most of the journey home but we talked about our adventures and played the famous 'guess the celebrity' game again!. We arrived safely back in Maidstone by the early evening and said our goodbyes to the new friends we had made.
It has been a successful trip and we all had a brilliant time away. We had the opportunity to try activities we never knew existed, faced our fears with the exciting challenges and build upon or make new friendships with fellow adventurers.
We were sad to say goodbye but it also means we now get to conjure up a new adventure idea!! ... So, where to go next year then? :-)