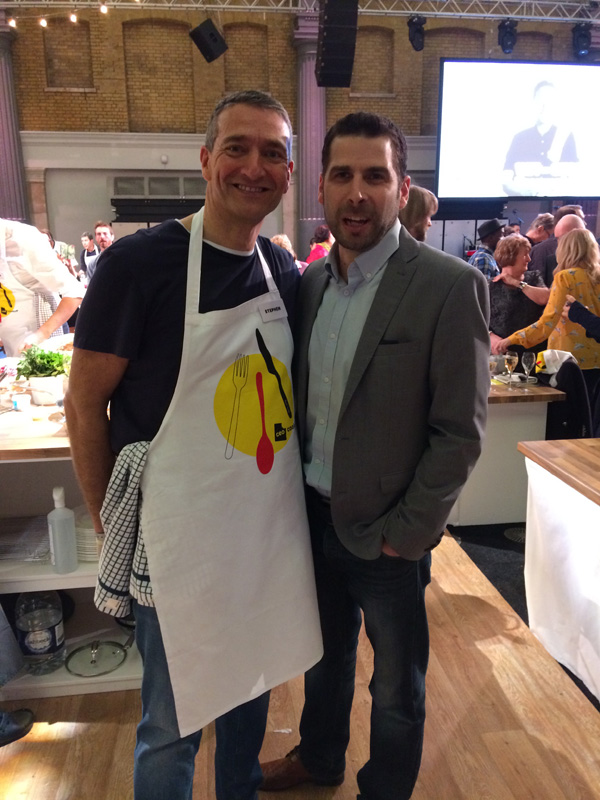 YLF's CEO, Stephen Gray, and some of the YLF staff were kindly invited by Global Make Some Noise to the first UK held CEO CookOff event.  
The evening was held at Old Billingsgate in London and was attended by some of the UK's top business leaders who teamed up with the nation's best chefs to cook a banquet for hundreds of everyday heroes who work tirelessly
to help others. It was our honour to attend this amazing event.
The CEO Coo
kOff saw senior business leaders swap their suits for aprons, and take up front line positions in the kitchen, with some of the best chefs in the UK.  It was our privilege to have dinner prepared by Michelin Starred chef, Angela Hartlett (seen below on
the left) from the Murano restaurant in London who worked alongside the CEO from Fortnum and Mason, Ewan Venters (seen here on the right), and Global CEO, Stephen Miron (above with Stephen Gray). Jamie Theakston and Emma Bunton from Heart Radio were also our chefs for the evening.  We are very grateful to them all for a wonderful meal.
HRH Duchess of Cornwall, who is the Patron of UKHarvest, also attended.  Click here to read more!
The CE
Os (and their companies) are working towards individual fundraising targets. This money will go to UKHarvest, who save quality surplus food from going to landfill and redistribute it to people in need.  It will also be donated to food education schemes across the UK, via the Jamie Oliver Food Foundation.