Project Kent – It's a Wrap!
At the beginning of the month we announced some super exciting news that YLF were winners of Project Kent, with KMFM and Kent Reliance... And now we want to update you about the amazing job that was completed by the team of Project Kent volunteers last week!
It may have been hectic at times in the office - there was hustle and bustle of teams of volunteers, DJ's from KMFM, camera crews, media reps, corporate supporters, and of course the obstacle course of paint tins, brushes and ladders; but we wouldn't have wanted it any other way!
Project Kent has achieved so much in just one week and the team were a delight to welcome into the offices! The revamp has not only set up what it had intended to do, but has also boosted the entire team who can enjoy their surroundings and invite our young people and volunteers in to use the space.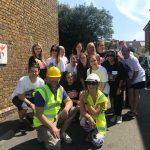 Project Kent may be over, however the finished product is still to come; it's now our turn to put the finishing touches to the great start that has been made, so watch this space for the big launch and reveal!
A HUGE thanks to Nim from Kent Reliance, Nicola at KMFM, the Project Kent volunteers and of course the entire team at KMFM and Kent Reliance for working so hard. Also a massive thank you to Brewers Paints for not only generously donating all the paints and materials, but also for surprising us with a £300 cheque to help us finish the job! You have all been amazing!
If you missed anything from our social media updates about Project Kent you can catch up on the whole week and check out all the photos on KMFM's web pages here: http://www.kmfm.co.uk/pages/project-kent-2018/