Last week showcased the talents of our Medway's Children and Young People Council (MCYPC, formally known as Children in Care Council CiCC) in their very first 'Talent Night 2018'.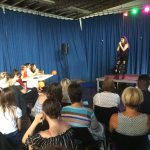 The MCYPC members decided to host a talent show when planning their programme of activities for the summer and everyone was on board to practice their skills and rehearse their piece. The group invited along YLF staff, Medway Professionals and their carers and families to the show. It was a fantastic opportunity for the youngsters to express their emotions through drama, a song or a dance, in a comfortable setting among friends and professionals.
With judges seated, audience waiting, and a build-up of excitement that filled the room, the event was ready to start. Our young acts took to the stage for spectacular solos, dramatic duets and great group dances - the show commenced and everyone in the room was blown away - especially those who sang for the audience, so powerfully and confidently. The young people were given courage by their team members to take part, and even last minute additions to the show meant those who thought they didn't have the confidence to take part were able to join in, demonstrating such an increase in self-esteem... The show was fantastic!
Our 'Panel of Positivity' judges spoke to our participants after each performance, feeding back their views on the acts and spreading positivity throughout the room. The audience participated by clapping along, waving their flash lights and cheering each act on. With smiles, jokes and laughter, it was a great night that ended with well-deserved certificates presented by Medway professionals Ann Domeney and Ian Sutherland.
A huge well done to each young person involved in the show - you really do have talent and show such resilience! Also a big thank you to the audience for cheering on our participants, and to the teams at YLF and Medway Council for your valued involvement. We cannot wait for the next show!