"Oh yes we did!" ...YLF's Positive Activities Team headed to the Marlowe Theatre with our group of youngsters to watch Dick Whittington, the pantomime!
There was lots of giggles from the excited young people, a rather witty and rhyming fairy, a big bad rat and Dick Whittington even fell in love... "Ahh.."
The second half involved the eccentric dame, lots of cake making mess, a royal wedding party, and even Honey G from The X Factor made an appearance… well the dame did a good job of it!
Kerry said,"That pantomime was the best, I loved watching them slip over on the boat with the cake mix." 
Michael said, "It was sooo funny, the jokes they said were really stupid but hilarious."
Sam said, "The magic tricks the man done were awesome!"
 Sara said, "I really hope we can come here again next year!" 
YLF's Independent Visitor Service also had the opportunity to take 40 young people and volunteers to the Marlowe Theatre to watch Dick Whittington too!
The Great British Pantomime … Oh no it's not, oh yes it was!
A fun-filled afternoon, full of oohs and awwww and its behind you - classic entertainment for all to enjoy.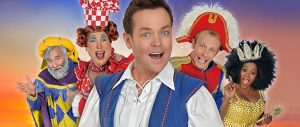 "Wicked panto – so funny, loved every minute of it, thank you YLF!"  said Ronnie
"Loved seeing the Christmas lights in Canterbury - great festive build up to the panto!" said Julie, Volunteer Independent Visitor.