YLF hosted its very first Charity Football Match on Sunday 10 June 2018 at the Gallagher Stadium, home of Maidstone United… And we are delighted to say it was a huge success with a host of celebrities and community leaders in Kent coming together in celebration of the achievements of young people supported by the charity. An event that will go down in YLF history, raising awareness and £2000 to support our young people!
This special occasion was opened by Mayor of Maidstone, David Naghi, and Maidstone and Weald MP Helen Grant, who are both great supporters of the work YLF undertake. The day consisted of a hat trick of events:
The Big Game Kidz – a 6-a-side game (which ended up being a 10-a-side game due to more interest from the children on the day!) Our YLF under 16's took on Kent's community leaders and charity reps from the likes of Steve Wolfe from Kent Sports Trust and Stewart King from Kings Reach Charity, and even included our very own CEO, Stephen Gray – who ended up being sent off with a red card…(this was more to do with the goal celebration and badly executed floss dance than nasty tackles!) The Kidz team were on point with their amazing dribbling skills, and scored 4 goals past goalie, Mr Holmes, Maidstone Grammar School. However the Community Leaders team managed to pull it back to end in a draw…..so in true World Cup Style, there was a penalty shoot out!!! Needless to say the Kidz Team won, to much applause from the 300 plus crowd!
The Big Game – a Celebs/Community Leaders Vs YLF Youth main match – sponsored by Express Taxis Maidstone. Young people and care leavers supported by YLF, past and present, joined forces to take on some local celeb faces such as Adam Birchall (Arsenal Academy Coach), Danny Grant (BBC Apprentice Candidate) and El'Tee (X Factor Contestant) who were teamed up with Kent Community Leaders such as Matthew Scott, Kent Police and Crime Commissioner and Tracey Crouch, Chatham and Aylesford MP. The game was entertaining and the youth team were cheered on as they tested the Celebs with some slippery skills, and even though the Celebs team won the match with a 7-4 win, the true winners were the young people who once again displayed their resilience and positive attitude throughout the day and what can be achieved with the right support and motivation!
Extra Time – YLF was honoured to invite Commonwealth Gold and Silver Medallist, James Hall to the pitch to present every player with a trophy. We even found time to invite X Factor's, El'Tee, to lead a 300 strong choir in singing 'Happy Birthday' to one of the Big Game Kidz players, Alfie – what a celebration!
The Stones home ground sold out of hospitality lounge and dug-out tickets, and attracted a crowd of over 300 people all supporting the charity and getting involved on the day by entering our prize draw, competing at Prize Pong, hosted by National Citizen Service (NCS), or simply buying cupcakes that were kindly donated by Em's Kitchen. We also had an array of food and drink stalls including resident sweet company, GemzandMagz, popcorn and candy floss by Candy Event Company, and Metz Ice Creams – a hit for many on the hot sunny day we were lucky to have!
YLF celebrated the achievements of its young people, and care leaver Karleigh, whom we support, even came onto the pitch to tell of her journey through care and successes she's accomplished – to which she received huge applause! The crowd also enjoyed pre-match and half time entertainment from the Bacon Butty Brigade, El'Tee, and furthermore, there was the opportunity for every child to come onto the pitch for a penalty shoot-out against Spiderman! The prize draw pulled the crowd in and was a success, with 9 prizes up for grabs from a signed match ball to family meals out all donated to YLF by local businesses. The children in the crowd were also overexcited to see special guest, Phil Gallagher, aka Mister Maker (CBeebies Presenter) make an appearance and engage in conversations and selfies with everyone!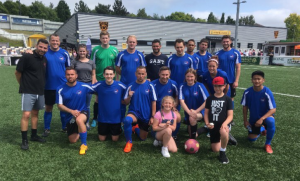 The event was a great success and YLF is overwhelmed with the support it's received in the planning, build-up, and on the day of the event. We couldn't have delivered such a successful and memorable event without the help of our remarkable young people, staff team, trustees, volunteers and supporters! There was a great community feel to the day and it was a pleasure to entertain and celebrate with everyone, the achievements of our local young people and charities. A huge thank you goes out to one-and-all – the proceeds from the day will allow YLF to continue the vital work it carries out for some of the most disadvantaged children across Kent.
"We are delighted with how the day has gone and with the support by our partners - together we delivered a fantastic family friendly event celebrating the huge achievements made by the young people we support. There is so much negative publicity involving young people at present such as gangs and knife crime but here at YLF we can offer alternatives and this match included many young people who we have successfully helped and offer a positive headline about young people for a change! Awareness and money raised from this event will now enable YLF to support more young people to receive the vital services we provide." YLF CEO, Stephen Gray
Full List of Thanks
Players:
Ben Towers – Entrepreneur
Danny Grant – Apprentice Candidate 2018
El'Tee – X Factor Contestant 2017
Tracey Crouch – Chatham and Aylesford MP
Matthew Scott – Kent Police and Crime Commissioner
Andy Willetts – Medway Council
Paul Bridgeman – Former Footballer, Chelmsford City and Braintree Town
Adam Birchall – Arsenal Academy Coach, and Former Footballer
Charlotte Thurston – Footballer, Gillingham Ladies FC
Steve Wolfe – CEO, Kent Sports Trust
Keith Mabbutt – CEO, Street Soccer Foundation
Stewart King – CEO, Kings Reach Charity
Stephen Gray – CEO, Young Lives Foundation
Tom Forster – Hospitality Finder
Rory Barker – Royal Engineers
Samir Thebe – Royal Engineers
James Goddard – Maidstone Grammar School
Jack Healey
John Butler
Dominic Murphy
The YLF Kidz Team
The YLF Young People and Care Leavers Team
Officials:
Jamie Warmington – Referree
Holly Warmington – Linesman
Leo Roantree – Linesman
Special Guests:
Helen Grant – Maidstone and Weald MP
Dave Naghi – Mayor of Maidstone
Phil Gallagher (Mister Maker) – Cbeebies Children's Presenter
James Hall – Commonwealth Gold and Silver Medallist
'Spiderman'
Participants, Support and Sponsors:
Bacon Butty Brigade – for pre-match entertainment
Karleigh Prescott, YLF Care Leaver – for sharing 'My YLF Story'
Maidstone Grammar School – for photography and filming
Street Soccer Foundation – for donating the match footballs
Express Taxis Maidstone – for sponsoring the match football kits
Maidstone United Football Club – for donating use of the Gallagher Stadium
Em's Kitchen – for donating cupcakes to sell
Prize Draw Donors:
Street Soccer Foundation
Dog at Wingham, Canterbury
Gravity
Hathor Beauty
Frankie and Benny's
Odeon
Hollywood Bowl
Concessions:
NCS – Prize Pong stall
Candy Event Company – Popcorn and candy floss stand
Metz Ices – Ice cream van
GemandMagz – Sweet Shop (also donated jars of sweets and world cup footballs)
Volunteers:
Maidstone Dawn Patrol Rotary
Maidstone Grammar School
Street Soccer Foundation
Kent Sports Trust
Ian Tucker – Commentator, Maidstone United FC
Gary Bowes-Read – Magician                                                                                                                Jayden Reed - DJ
Trish Knowles – Nike
Lastly we'd like to thank all YLF staff, trustees, volunteers and family members for supporting us on the day – and of course all our young people (past and present) and their carers/families for supporting the occasion!
More photos of the event can be found on the YLF Facebook, Instagram and Twitter feeds, and via event hashtag #ylfmatch