YLF Meets National Standards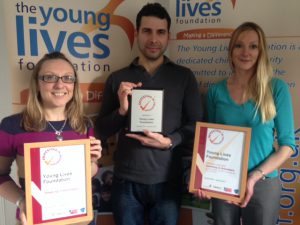 YLF are delighted to have received the 'Investing in Volunteers' accreditation for the second time in a row!
We have been recognised with this UK quality standard by National Council for Voluntary Organisations (NCVO), confirming good practice of volunteer management and involvement.The accreditation approves the effectiveness, dedication and hard work of our volunteers and staff. We are pleased to have this accreditation for a further 3 years.
The final assessment report states, "The support and supervision offered by YLF is very positive and is a real strength in the organisation. Communication is ten fold better than other agencies. Staff at all levels and the trustees spoke appreciatively about their volunteers and showed respect for what they achieve".
Stephen Gray, Chief Executive of YLF said, "I am delighted that YLF has once again been recognised as an organisation that delivers quality services, meets national standards and values and supports our team of amazing volunteers effectively.  Well done and thanks to all involved".