YLF Premiere 'Stigma' Film
Yesterday, the Children in Care Council (CiCC) premièred the first screening of their new short film on 'Stigma'.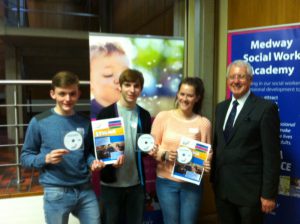 At last night's Corporate Parenting Board Meeting, three members of the CiCC, Paddy, David and Tiff presented their research and premièred the short film. The powerful film produced a really positive response from the Board and the CiCC members were congratulated for their hard work.
"Thank you for presenting such a powerful message and for your honest account of your experiences. We are really keen to support you in promoting your message to practitioners and schools across Medway", Councillor O'Brien.
The CiCC members from Medway are hoping to educate peers, professionals and the wider society about the stigma that can be associated with being in care and challenge judgements, stereotypes and labels. They carried out their own research and asked other children in care whether they have ever felt stigmatised. Their research resulted in the production of a short film and a paper based on their findings.
Paddy said, "I'm really pleased with the response we got tonight. I can't wait to get it out there now and show it again and again and again!"
This research and short film will now be used as a training resource for Council professionals, local schools and the wider public with an overall message demonstrating why children in care shouldn't be classed as different and that they are like any other child. The CiCC sum up their research and film with one simple message:
"When there is NO difference, it makes ALL the difference"
WATCH THE VIDEO NOW: