With Easter behind us, you may be thinking the only thing left as a reminder is the empty boxes and scraps of chocolate left from Easter eggs... You're wrong!
Here's a reminder of our busy Easter and the lasting memories of the fun activities had by young people - Easter will not be forgotten in a hurry!
21 young people ventured to Kingswood Activity Centre for a team challenge day. Activities included 'nightline', zip wire and wall climbing. "The best thing was making new friends"... Read the Blog here for more of the story.
A group of 7-11 year olds headed for Gillingham Pier to watch a theatre show. The best bit was that it was aboard a boat! Read the Blog here for more.
A sunny and exciting day had by a group practising new skills in archery and quad biking. A boys versus girls day sure went down well... Read their story here.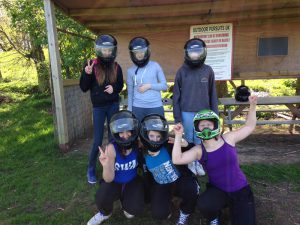 A cold overnight camping trip heated by the fun of building a rope swing, games of 'manhunt', building a camp fire... and even pulling our minibus out of the mud! Read more here.
14 excited children headed to London's Science Museum and were amazed by all the things they could see, do and learn... and for some, it was the first train journey they'd had too! Read the Blog here.
And if that's not enough for you, read our latest e-bulletin here and find out more about the outstanding fundraising achievement that has just been made...