Fundraiser | London Marathon
An exciting year for YLF as our very own Advocate, Neil Vickery, heads to the Capital City to run the London Marathon on 24 April!
Neil came on board to fundraise for projects that solely rely on fundraised income such as our Positive Activities Programmes. Only our supporters and donors can ensure this project continues to make a difference to young people in care or in need across Kent!
So Neil has given himself a new challenge and even though he has run a marathon before, never has he faced the London Marathon!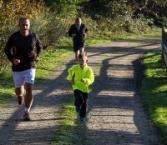 He has pledged to not only try and raise a huge £1,000 but to keep us posted on his training in the lead up to the BIG DAY!  
So, stay posted for updates and stories on our Blog!
Please visit Neil's Fundraising Page at: 
---
YLF's Positive Activities Programme is a self-funded project that supports young people to develop new skills, achieve qualifications and gain confidence and self-esteem. The exciting but relaxed environment in which the groups meet, allows young people to have fun, take on challenges and make new friends. Read more about Positive Activities here.